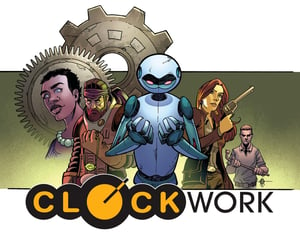 $

15.00 - On Sale
ATTENTION: This item is identical to "Clockwork, Vol. 1 Pre-Order," with the exception of shipping cost. Choose this option ONLY IF you live in the Kokomo area, and have spoken with Gov't Comics Publisher Paul Allor about picking up your book, rather than having it shipped to you.
*** *** ***
The twelve short comics in Clockwork, Vol. 1 defy genre lines, taking you on a journey from the Old West to outer space, from death row to a child's home.
Writer Paul Allor is joined by some of today's most exciting artists, including JM Ken Niimura, Brett Weldele and Nikki Cook, in a book that combines dynamic storytelling and true heart.
Clockwork Volume One is available to preview in Web comic form, for a limited time, at clockwork.govtcomics.com.